Memorial Day Weekend came and went (sigh…) and now the recycle bin in your apartment is overflowing with empty aluminum cans.  Never fear, little party goers and party throwers! They don't have to go to waste. In fact, those Pabst Blue Ribbons from yesterday's house party can be reincarnated into a myriad of interesting things. (But that guy from yesterday's house party? He needs to leave now.) Break out the band-aids and protective gloves because we're about to get crafty. Whether you're looking for something easy and fun, or an all day project, your cans can be transformed. Okay, I'll stop with the puns before that annoying song gets stuck in your head.
Flower Pots
This ain't your momma's flower garden. Collect empty beer cans in your favorite colors: shiny red Tecate, green Heineken, icy blue
Bud Light and that mottled, camouflage print orange Four Loko. It's a rainbow of bad decisions! Now cut off the tops of the cans, so your plants will fit inside. Poke some holes in the bottom of each can using a nail. If you intend to water these babies instead of murdering them with your non-green thumb, they'll need a place to drain. Insert soil and your plant of choice. We recommend herbs or succulents. Nothings says "hipster chic" like PBR in bloom:
Wreath
Did you know with a pair of scissors, a can opener and a little effort, your cans can become just about anything? Why not make a wreath?  You can use the cardboard box from your 24 pack to create the base. Cut a circle from the cardboard by tracing a plate. Then slice apart those cans, snipping off the tops and bottoms. You should be left with a flat piece of aluminum. Ask friends to join in on your hippie Martha Stewart mania by having them trace outlines of leaves onto the metal. But your dreadlocked Burning Man buddies probably shouldn't be in charge of leaf design, especially if this wreath is a gift for mom. (Unless you have a hippie mom, then it's fine.) Cut out your leaves, staple them to the cardboard and look- you've created a masterpiece!
Hat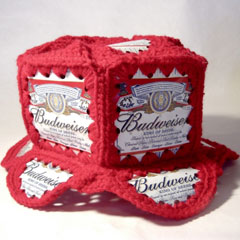 Be the envy of your friends with a fashionable beer can hat! Did you know they've been around since the 70's? Groovy! Besides, who wouldn't want a pimped out PBR cowboy hat or a retro Budweiser cap? Your drunk uncle would surely appreciate one.  You do need some extreme crochet skills for this project, but if you don't have them, enlist your Grandma or that weird friend with too many cats to help. Crochet patterns for these snazzy chapeaus can be found online. With a single hole punch, colorful yarn and tall boys from last night, you could be sporting an Old English top hat, the finest in malt beverage couture. Like Frank the Tank, you're never too old discover your inner frat boy.
Lanterns
Nothing sets the mood for romance like lanterns made of cans. Not only do they create sensual, ambient lighting in the bedroom, but they show your appreciation for the environment. What a sexy nature lover you are! First, you need to fill those empty cans with water and stick them in the freezer for six hours. When the cans have frozen solid, get out your X-Acto knife and cut slits in the side. (The ice is there so you don't sever your finger by accident. Lantern making shouldn't be a blood sport). Don't forget to make a hole in the top of your soda lantern for a candle. If you're an anxious type, convinced you'll burn the building down in a fit of passion, go ahead and buy the battery powered tea lights instead. Remember to squash the can a bit to create that Chinese lantern look. Now put on some Al Green and get busy.
Pencil holder



Yes! A beer can reuse project that you can actually complete with minimal effort. Use a can opener to cut off the top of your empty Coors can. (But don't forget to rinse it out first, unless you like that vomit inducing stale beer smell). Weight down the bottom of the can with a magnet or uncooked rice. Display your Rocky Mountain logo proudly or cover it up with cloth, glitter glue, ribbon, googly-eyes and sequins. If you're an artist, go Van Gogh crazy on that can and paint it with your dream landscape. Wish you were at the beach? Oh look, there's an acrylic palm tree so green and leafy it could be real. Now you'll never lose your favorite purple, sparkle gel pen again. But please, stop doodling your ex's name with it. It's really time to move on.
Belt
Leather belts are made from dead cows, kangaroos, ostriches and stingrays. Yeah, even the animals in Australia aren't safe from your fashion choices! By creating a belt out of soda tabs, you'll be the hero of every hipster vegan in town and you'll keep your pants from falling down. So here's what you'll need: 100 soda tabs, string, scissors and a key chain or other ironically cool clasp for a buckle. First measure your belt and cut it. Then weave the string through your soda tabs, looping it back and forth. (This requires a YouTube tutorial. Just don't watch teens with funny accents or it still won't make sense.) When you've achieved your desired length, tie off the ends and attach that badass Carabiner. Goth spiked belts have nothin' on you.
What do you think? Any of these tickle your can-cy fancy?